One of the aspects of the plugin is the support it provides. Whether you're an end-user, a developer, or just curious about how the plugin works, we're on standby to provide support and answer any queries you may have in the plugin support forums. 
In order to facilitate users and provide the best support possible, as of version 2.2 the plugin features a dedicated product "Support" section. This is accessed as a submenu of the AMP plugin, and it can be used to obtain valuable information about your site setup. It can also be used to share valuable technical information with our support team, which can assist in troubleshooting efforts.
How to request support
You need to create a WordPress.org login to request support for the AMP plugin, which is a requirement for all plugins available in the WordPress plugin directory, If you have issues or queries related to the AMP plugin, you can request support by following the below steps: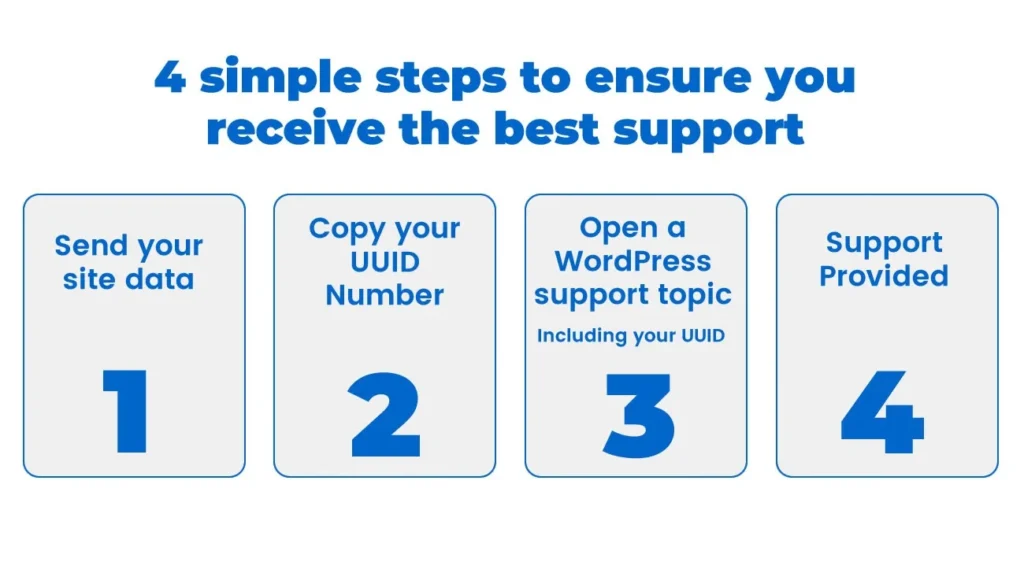 Login as Administrator and go to WordPress Dashboard AMP > Support
Click on "Send data" button
Wait for some time, so it will generate Unique Support ID (UUID)
Copy your UUID
Open a new support topic in AMP plugins support section, describing your issue with your AMP page link and including the UUID
What is the support tab used for? #
The support tab can be used to view and share only valuable technical information about your current environment. This includes insights from your Site Health information, which at present include the following:
Your site information
Your active themes 
Your active plugin
An errors count and error sources
Validation URL information 
Raw data in JSON format
Sending your data #
You can use the "Send data" button if you're looking for assistance with any aspect of the AMP plugin on your site. This will send your diagnostic information to a private database which can be accessible by AMP plugin support representatives. If you do decide to submit your site information, please keep a note of the final Support UUID reference number. You can mention this reference number if opening a support topic on the plugins wordpress.org support page. 
You'll find out more about this feature by visiting the related issue on the plugins GitHub repository. 
Sending your data for a particular URL #
You can also use the plugins admin toolbar feature to send data on a particular URL on your site. To do so open any AMP URL and hover over the "AMP" tab. After doing so click on the "Get support" button, at which point you'll be directed to the plugins diagnostics page for that particular URL. you can also send a support request for a particular URL from the validator tool 
You can then press the "Send data" button before opening a support topic and referencing the UUID provided. 
Why do I need to send my data? #
You are not required to send data in order to open a support topic. If however, you're encountering issues in relation to possible plugin or theme conflicts or if you're seeking assistance with validation errors, the sharing of your diagnostic information can be useful for the support team to review your environment and provide suitable support.
While sharing your data may not be necessary when requesting support there will be occasions where our plugin support representatives will request you to share this information in order to successfully troubleshoot issues. 
Disclaimer #
We will use your data to understand and analyze your site, also any validation errors or error logs you provide will be used to assist you better, be assured your information will not be shared or sold to any third party, only support team members of the AMP plugin and AMP plugin developer will be able to access the data.
I can't remember my UUID, what can I do? #
If you can't recall the UUID provided via the plugin you can simply send your data once more. After doing so a fresh UUID will be generated. 
Ongoing development #
If you'd like to provide feedback, submit a feature request, or contribute to the plugin you can do so over on the plugins GitHub repository.
Now that you know how the extended support submission flow works if you need any assistance with the plugin be sure to reach out in the official support forums. Our team are on standby to answer questions in relation to the plugin.